MSK RADIOLOGY CONFERENCE COURSE MUSCULOSKELETAL MRI INDIA
BENGALURU: MSK MRI RADIOLOGY KNEE & SHOULDER MINI FELLOWSHIP: 17/18 SEPTEMBER 2022
Our 2-Day Onsite Knee and Shoulder MRI Mini Fellowship and Workstation Workshop will be in Bengaluru, India on the 17th & 18th September 2022 and registration is now OPEN.
It's for you if you are at a beginner to intermediate level in reporting Knee and Shoulder MRI. This is a complete course and will cover all you need to know about Knee and Shoulder MRI to assess and report the scans you see at work confidently. We will spend a day on each joint and cover the abnormalities that we commonly see in daily reporting.
The mini fellowship is hands on and aimed at enabling you to learn, practice and retain knowledge and to go back to work reporting the MRI scans on your list more confidently and accurately.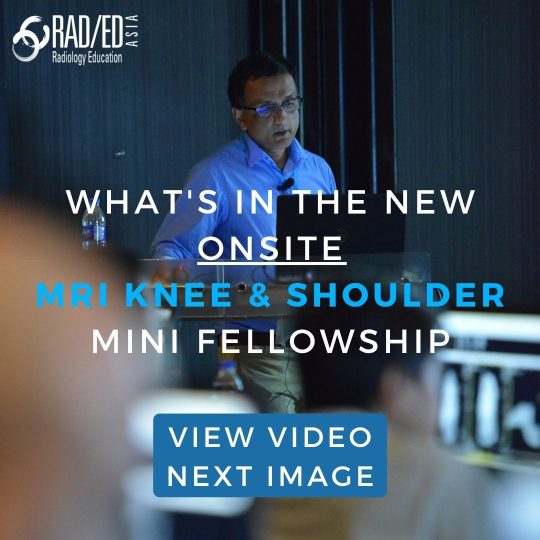 How I Learnt in My Fellowship
During my Fellowship, I learnt through a combination of reading, seeing lots of cases and having a mentor sitting next to me who could answer specific questions, point out abnormalities and how to find them and how to report them. Which is a very effective method of learning.
What If You Can't do a Fellowship
But a lot of people either don't have access to or don't have the time for a 1 or 2 year fellowship…and they then miss out. They try to learn by reading or going to conferences full of power-point presentations, which might give you information, but  don't make you confident in how to assess, interpret and report a scan.
Our Guided Mini Fellowships are different

We structure our Courses to reproduce the Fellowship method I learnt in.
A much more effective way of learning and retaining knowledge than the standard conferences or just reading.
What you will learn in the mini Fellowship can be immediately applied to improve your confidence in daily reporting.
What do people like you, who attended our MRI Mini Fellowships say?
SOME QUESTIONS YOU MAY HAVE